Belarusian Red Book
The first edition of the "Red Book of Belarusian Music" was fastly sold out.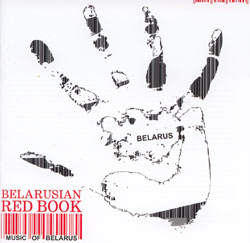 It tooks us time and money to present you the 2nd edition. Now its availabale for you! Per order we can only send you one piece. Please send the order including your name and postal address to: belarus@kulturaktiv.org

To cover postage and packing please transfer (2,50 Euro within Germany or 5,00 Euro for abroad) to the following account:

Kultur Aktiv e.V.
Konto / Account: 3509471001
Bankleitzahl / Bankcode: 85090000
Dresdner Volks- und Raiffeisenbank eG
IBAN: DE54850900003509471001
BIC: GENODEF1DRS

The CD will be sent once we received your payment.
Although you will recieve your copy for free, we ask your explicitly for a donation. This support will help us for further work with and for the Belarusian musicians, not at least for a further issue. You will be surprised: the CD incl. booklet is professionally manufactured and contains a CD-R with another 39 mp3's!!! If you are able to donate even a few Euros or a symbolic amount, it will help us!

For those donations please use the following account:
deutsch-belarussische Gesellschaft e.V.
reason for transfer: "Band-Projekt Belarus"
Postbank Berlin
account: 499 585 106
bank-code/BLZ: 100 100 10
International:
IBAN DE85 1001 0010 0499 5851 06
BIC PBNKDEFF

Your feedback about the CD please send to: ingopetz@hotmail.com.