Focus on Belarus – Snapshots of the Belarusian Present
An Exposition of Photos by the Belarusian Photographer Andrei Liankevich
Purpose

The project's purpose is to present the subject Belarus in a public exposition to entire Germany in order to stimulate a discussion. This opportunity is especially given by the exposition of photos as the chosen medium , as it allows for enough space for interpretation and harmonization. In this way, the act of dealing with this European country is supposed to be promoted, which may also contribute to the critical reflection of the current situation in Germany. Moreover, the subject Belarus plays an only temporary role in the German media, shortly appearing in people's minds at times of elections in the country. This fact could be wisely counteracted by means of a widely applied exposition, as well. A smaller-sized exposition of the artists' work, which was presented from May to October 2006 in Dresden, Wittenberg, Berlin and Frankfurt/Oder, and which can probably be visited in Vienna soon, has already proven how impressively a photo exposition can encourage dealing with the subject Belarus. We recommend a visit at Andrei Liankevich's homepage in order to obtain a first impression of the artist's motifs: www.liankevich.com

In order to encourage dealing more intensely with Belarus, there will not only be relevant events, including opening presentations, lectures, readings and panel discussions, at which, depending on the financial situation, Andrei Liankevich will also have a word. Moreover, the exposition will be displayed at public places, such as in the Länder's parliament buildings, at universities or in city-halls. The exposition at each of these locations will last one month, starting in Dresden in May 2007. It is preferred to be seen in at least ten German cities. The possibility of additional presentations in European neighboring countries is given by multi-language descriptions of the pictures (English, German, Belarusian). Furthermore, it is planned to create a catalog of the artist's 30 photographies.

Underlying data of the exposition

30 pictures in panel and landscape format, measures 30x45
photo description in English, German and Belarusian

Underlying data of the catalog

circa 55 pages in landscape format, measures 18x25, color print
text: circa 25 pages, black and white, 5-6 articles about current Belarusian topics, texts in German and Belarusian
pictures: circa 30 pages, colored, 30 pictures including description in German and Belarusian, printed on one side

description of the motifs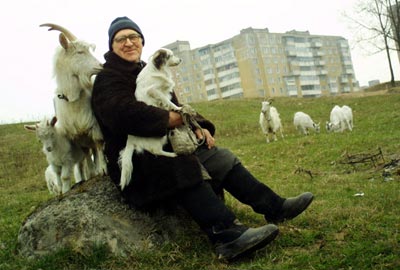 The pictures of the exposition have been taken between 2004 and 2006 and show clippings of the Belarus' everyday life that for Andrei Liankevich constitute the present situation of his hometown – the "simple" life of the people in the villages, the ubiquity of the autocratic state under Aleksander Lukaschenko, displayed by policemen and the armed forces in the streets, non-conform art projects of the critical youth, and the Sowjet past that to many has not yet passed. According to his biography, Liankevich dedicates himself not only to the Belarusian counter – movement that is present in his motifs as well, but he also portrays problems of the Belarusian society – problems that have neither been realized nor picked out as a central theme. This includes pictures from a project in 2006 about lesbian partnerships in Belarus' capital Minsk.

Short biography of Andrei Liankevich

Andrei Liankevich was born in Grodno, Belarus in 1981. In 1999 he successfully finished school with a degree in business and law. In the same year, Liankevich began to study business at the State University of Minsk and he received his degree by 2004. Having attended several on mass-media and photography in Poland and Armenia, he has been taking pictures since 2001 for numerous newspapers – Nasha Niva (Minsk), Leader (Minsk), CD (Minsk), Komsomolskaya Pravda (Minsk), New York Times ( Moscow's edition) – as well as for the European Photography Agency in Moscow. In December 2003 he additionally worked at the Institute of German Studies of the European Humanistic University of Minsk and for the German Embassy in Minsk, where he took pictures for the book Belarus – Unknown Center of Europe. Since February 2006 Andrei Liankevich has been working as a photographer for the newspapers Gazeta wyborcza and Rzecz Pospolita in Warsaw, still living in Belarus. Due to his engagement for oppositional newspapers, he is on a watch of the Belarusian state and, therefore, lacks the opportunity to find work in his home country.